What To Wear During A Job Interview
We are all aware that both verbal and non-verbal communication occurs during any social interaction with other human beings. It is said that Impressions are created and opinions are formed within the first five minutes of meeting someone. It is for this reason that when attending a job interview we all need to be aware of the messages our appearance relays to interviewers.
Appearance Is Important
Your interview attire says very specific things about you as an employee which is why you need to pay special care to your appearance. Your clothing must send a consistent message to that delivered in your application and CV. Take extra care when dressing ahead of a job interview and ensure that you are presentable, professional and always neutral. Your job interview outfit plays a supportive role in selling your skill and accomplishments to a potential employer. Be sure to check out Jobs.co.za Job Interview Fashion-Police Guidelines for tips on how to dress for job interview success.
JOB INTERVIEW FASHION-POLICE GUIDELINES



Job interview suspects need to pay very close attention to what they decide to wear to their job interview. Both men and women need to follow strict guidelines in order to relay a favourable message to the interviewer. Prepare the night before and be sure to take note of the following points when deciding how to dress for a job interview;
DOES YOUR JOB INTERVIEW ATTIRE FIT YOU CORRECTLY?
Be sure that you appear to be neat and tidy when dressing for your Job interview. Clothing that is too large appears sloppy and thrown together. In converse to this, clothing that is too tight may present an incorrect perception about your personality as well as appear shabby.
HAS YOUR SUIT BEEN DRY CLEANED?
Speaking from experience, housekeeping is not everyone's forte'. When preparing the night before your job interview, ensure that the clothes you plan on donning during your interview are clean and neatly pressed. You wouldn't hire a recruit if they showed no respect for their own appearance, so why should this be any different for your interview outfit.
DRESS FOR YOUR JOB INTERVIEW USING CONSERVATIVE COLORS.
When dressing for an interview, stick to classic or conservative colors, such as navy blue, brown and black. Style and fashion trends are forever changing and can often create the wrong impression to a potential employer. There is nothing wrong with the way you choose to express yourself in your clothing selection but keep in mind the positive and professional impression you are trying to make.
SAFE OUTFIT CHOICES FOR MEN
In most cases, a two piece suit is your best bet when selecting cloths to wear to a job interview. Even if a suit is not a requirement for the role, rather attend a job interview over-dressed than under -dressed. Remember that your suit must match; nothing is more unprofessional than wearing a dinner jacket with a mismatched pair of trousers. Pay special attention to the socks you wear which should be as closely matched to either your trousers or your shoe color. Also stick to conservative or neutral ties, cartoon character ties are just so last season.
SAFE OUTFIT CHOICES FOR WOMEN
Women are fortunate in the sense that they have more job interview clothing options. While most women appreciate this, it can be a little trickier trying to put something suitable together. Women have the option of wearing a two piece pants or skirt suit. A tailored pair of pants with a matching jacket is usually more than perfect when dressing for job interview success. Ladies should always be very careful about highlighting their 'assets'. Be careful with plunging necklines as well as skimpy hemlines. While you may be comfortable to 'shake what your mama gave you', I assure you this will work against you during a professional job interview.
INTERVIEW GROOMING AND PRESENTATION
Although basic hygiene is not something anyone should have to justify, when preparing for a job interview its worth paying attention to. Make sure your nails are trimmed and neatly manicured. Men should pay attention to this just as much as ladies. While your nails should be clean and short, your hands should also be washed and unmarked. Hair should be pulled back neatly and preferably off your face. If your hair is cut in a short style, make sure you don't need a trim before going to your job interview. Naturally, the way you smell is also significantly important when 'dressing for success' in a job interview. Don't make the common mistake of over using cologne or perfume. Smelling nice is one thing, but causing acute asphyxiation of your interviewer is not going to secure you a call back.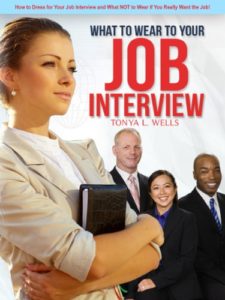 There is a little piece of wisdom that you should always apply when getting dressed for a job interview.
Take a good look in the mirror and ask yourself; 'would I hire me?' Pay close attention to each detail that encompasses your job interview outfit. If you can wear it out clubbing, don't wear it to your Job Interview.